Allstate's Cast Aluminum and Bronze Custom Plaques are made with the finest materials and the latest technology to engrave your message. Our bronze plaques use Prime Bronze (220 Commercial) and our aluminum plaques use Prime Aluminum (5052).

Plaque faces are stroke-sanded with baked enamel backgrounds before being clear-coated and oven-baked with a two part hardened acrylic polyurethane. The first 1200 letters are included and all plaques come with standard mounting hardware. We can engrave your plaque with custom text and your own logo to keep your branding consistent.

Don't settle for a run-of-the-mill sign for your business. Let others know you mean business with a custom plaque from Allstate Sign & Plaque.
Contact Us To Order | Download Info Sheet
Bronze Plaques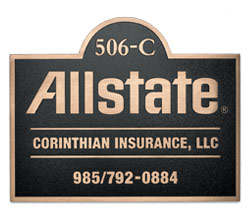 | | |
| --- | --- |
| Item # | Size |
| C-69B | 6" x 9" |
| C-810B | 8" x 10" |
| C-1012B | 10" x 12" |
| C-1014B | 10" x 14" |
| C-1214B | 12" x 14" |
| C-1416B | 14" x 16" |
| C-1218B | 12" x 18" |
| C-1620B | 16" x 20" |
| C-1824B | 18" x 24" |
| C-2430B | 24" x 30" |
Aluminum Plaques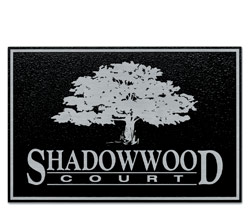 | | |
| --- | --- |
| Item # | Size |
| C-69A | 6" x 9" |
| C-810A | 8" x 10" |
| C-1012A | 10" x 12" |
| C-1014A | 10" x 14" |
| C-1214A | 12" x 14" |
| C-1416A | 14" x 16" |
| C-1218A | 12" x 18" |
| C-1620A | 16" x 20" |
| C-1824A | 18" x 24" |
| C-2430A | 24" x 30" |